Shopping Cart
Your Cart is Empty
There was an error with PayPal
Click here to try again
Thank you for your business!
You should be receiving an order confirmation from Paypal shortly.
Exit Shopping Cart
5 Star Licence held nos: M/0008104 : M/008103 : M/0010593

...the one stop pet care company
6 Nathan Gardens, Hamworthy, Poole Dorset BH15 4JZ
Paws posts - our blog page
Our very own black Labrador Shadow has recently been diagnosed with arthritis and muscle weakness in his back legs - a condition commonly seen in older Labradors.
With Shadow now 10 and half years old we had already taken steps to ease the onset of arthritis by ensuring that he has oily fish, coconut and salmon oil as part of his diet, as well has taking YuMove joint pills every day too. Following discussions with our vet, Zoe, at
Companion Care, Poole
, it was decided to start Shadow on anti-inflammatory medication for two weeks.
After the initial two weeks, Zoe advised on blood tests to ensure that Shadow's liver and kidney functions were all in order to assist us all on a suitable treatment plan. 
We had carried out some research and decided that Hydrotherapy was the best way forward to assist Shadow and help him regain the strength in his back leg muscles. Following further discussions with Zoe we decided on a centre in Ringwood called
4 Paws Hydrotherapy
and thats where Shadow's story really begins...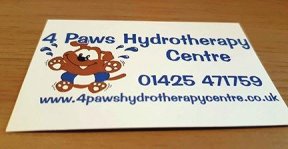 On Saturday 3rd September we took Shadow to meet Tasha and Becky at the centre where he was assessed on his walking, had muscle measurements taken and his overall movement and strength checked before a course of treatment was agreed upon.
As Shadow has muscle weakness Tasha advised that his initial treatments would be in the water treadmill.
As you can see Shadow took to the treadmill brilliantly although we think the added incentive of cheese spread to lick on the plate as he walked may have had something to do with it!
Following his session Shadow was showered, shampooed and dried off, given a treat and booked for his second session next week. 
Keep up with his progress by following his blog every week...
Keeping the kitties purring
In the late Autumn of 2015 Margaret Green Animal Rescue at Church Knowle, Nr Wareham  put out an appeal asking for donations of kitten food as they had many in their care and they all needed lots of food!
On hearing of the appeal  Karen (Owner of Paws and more), put out her own appeal message stating that she would like to help out  and asked her clients, friends and family to get involved too. Over the next few weeks she received and collected donations of not just kitten food but also for older and senior cats too. 
On a damp December day Karen loaded the van and headed off to the rescue centre to make the donation of all the food that had come in. On arrival at the centre she was warmly greeted by the staff and then once, all the food had been safely unloaded to the cattery area, she had a look round at the cats and kittens awaiting their forever homes. It would have been so easy to have come home with a few!
When asked why Karen had decided to do this, this year, she said she knows  how important it is to a kitten's first  years to be fed the correct type of food to help ensure that  they grow into healthy cats  and  wanted to help the Charity to be able to do this.  Being in the animal care business myself and having looked after cats that have come from rescue centres themselves, it is a pleasure for my clients and I to be able to help in this way.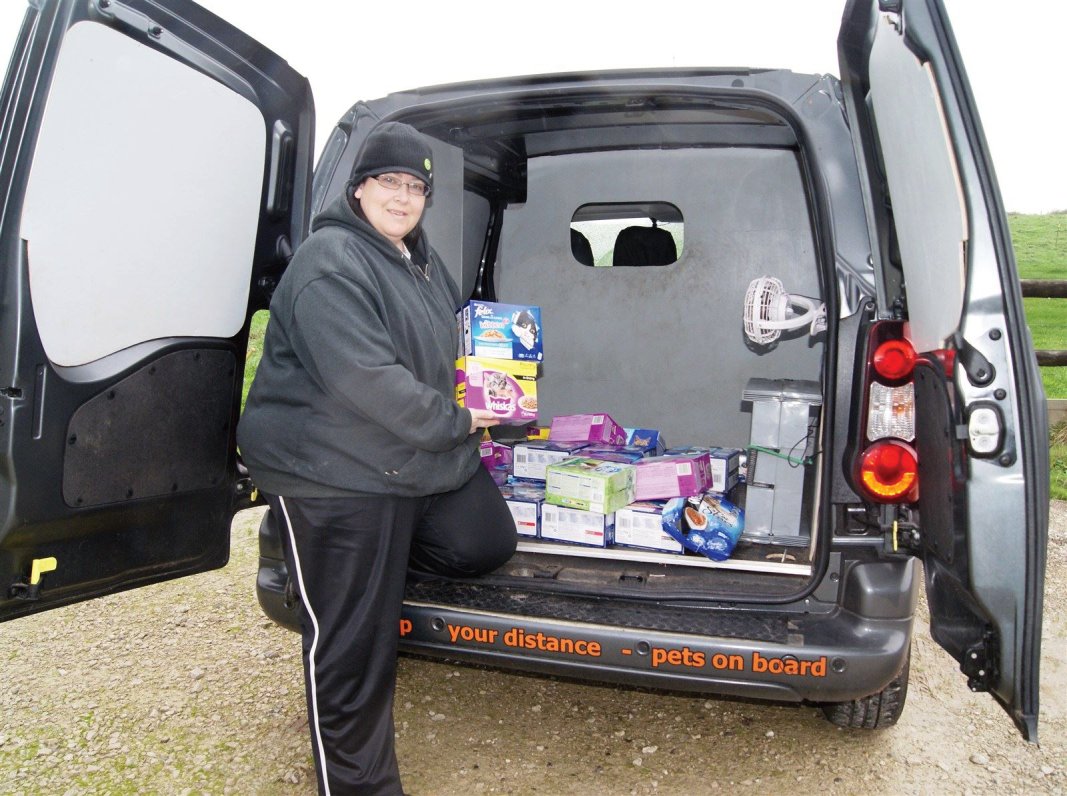 Margaret Green Animal  Rescue is a registered charity based near Wareham, Dorset who look after a range of animals until new homes can be found for them  – see
http://www.margaretgreenanimalrescue.org.uk/
for more details.
Paws and more helps to ensure waggy tails all round
When Karen Curtis, owner of Paws and more... the one stop pet care company saw an appeal on Facebook from Waggy Tails Rescue Dorset for cans of Chappie dog food, she didn't hesitate to help out.
Karen, put out her own appeal message stating that she would like to support the Waggy Tails charity by donating some tins of food and that if any of her clients wanted to get involved she was happy to collect their donations and add them to the collection for onward delivery to the Waggy Tails main office and rescue centre at Helens House, Canford Magna, Wimborne.
The response from clients, friends and family was remarkable and before long the 'Chappie Mountain' totalled 150 cans!
It was arranged for Karen to go along, meet  Shelagh Meredith, Chairman of Waggy Tails along with some of the volunteers and workers, have a tour of the centre and hand over the donation, and that's exactly what happened as can be seen from the photograph.
When asked what had inspired her do this Karen replied "I know how hard animal charities work with limited funds and to be able to help in some small way to help the dogs that are rescued, nutured back to health and then found loving homes is just such a simple gesture that will make a big difference. Being in the animal care business myself and having doggy clients on my books who have come from rescue centres themselves, it is a pleasure for my clients and I to be able to help in this way".
On meeting Karen, Shelagh from Waggy Tails said that 'it was very kind of Karen and her clients to help in this way and is greatly appreciated'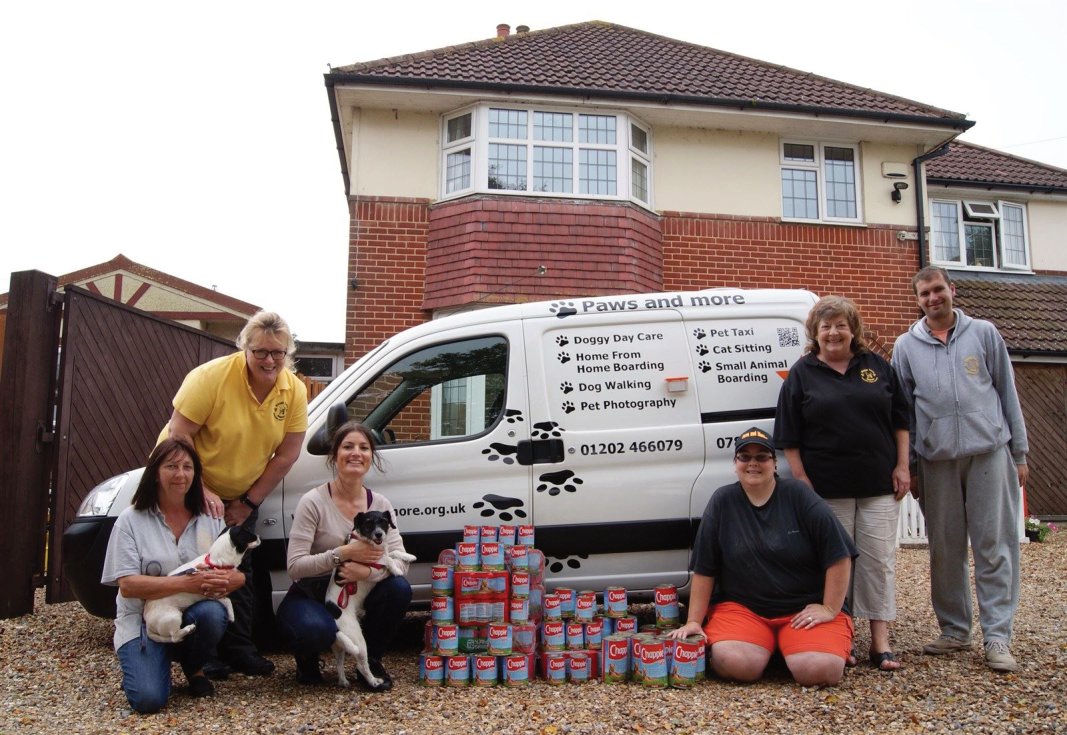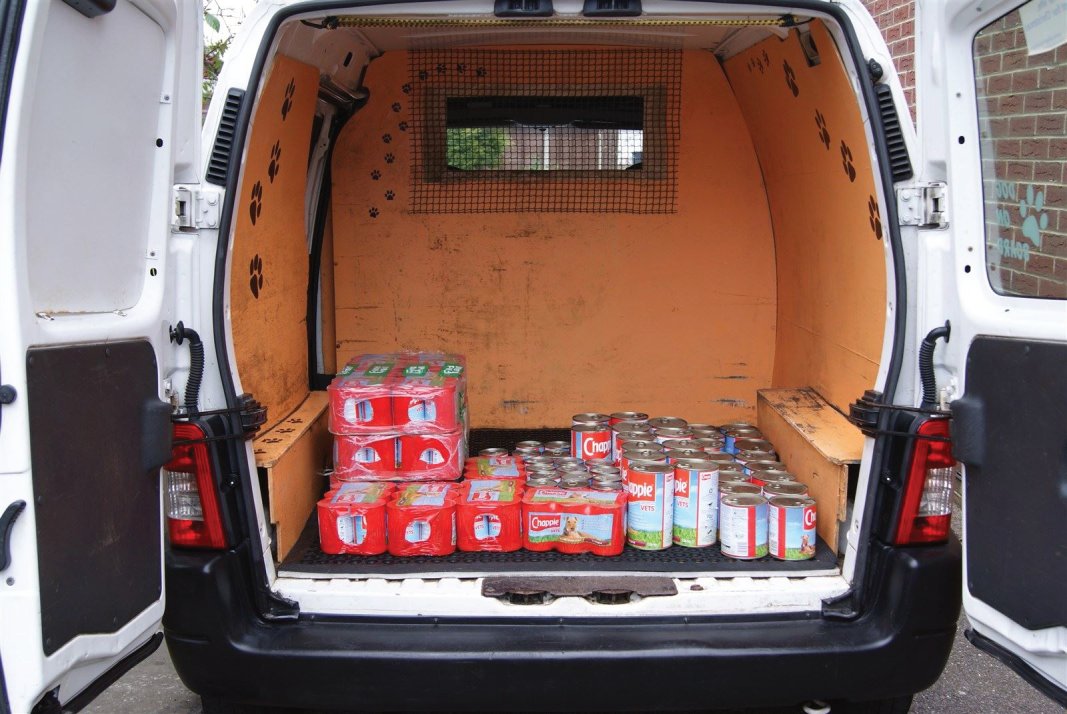 Waggy Tails Rescue is a registered charity based near Poole and Bournemouth. The Waggy Tails story is about happy dogs, happy people and happy homes – see
http://www.waggytails.org.uk/default.aspx
for more details.
0

/